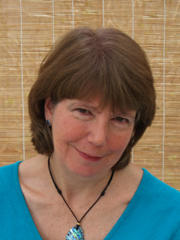 rosalind@westsurreyartists.co.uk
Woking artist Rosalind O'Connor started painting 18 years ago. Her paintings include a rich variety of bustling street scenes, atmospheric landscapes and vivid still life. She works in watercolour, acrylic inks and mixed media.
This summer she has had 2 paintings in the Mall Galleries, London at the Society of Women Artists exhibition. She also exhibits with Woking Society of Arts, Guildford Art Society and Cranleigh Art and Crafts Society and has sold over 50 paintings at their exhibitions. She recently won first place in a Woking competition for a vibrant and colourful painting of Woking Market.
She has been influenced by classes in watercolour and life drawing, and by workshops with various artists. She is a founder member of the exclusive local 'Carry on Painting' group, which meets weekly, and is a member of the 'Surrey 12' group of artists which was formed in 2007.