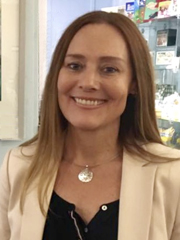 laurensapseid.format.com
lauren@westsurreyartists.co.uk
Lauren has been painting since she could remember. Born in South Africa, Lauren studied Art at school and then Fine Arts at the University of Witwatersrand in Johannesburg. Her passion for art extended to her career as a Graphic Designer and later, Assistant Art Director at an intentional advertising agency.
The responsibility of raising three young daughters meant that Lauren decided to leave her demanding advertising career, but she never lost her love of drawing and painting. She continued her passion for art and found herself taking on various ventures including painting on ceramics, fabrics and wall murals. Lauren even worked part time at an adult education centre teaching ceramic and fabric painting.
Lauren is a member of the Guildford and Woking art societies and is a regular exhibitor at both societies' bi-annual exhibitions. She is also a very active member of the Carry on Painting and the Mayford Art groups that meet weekly and is often asked to critique painting by the other artists that attend. Lauren has sold much of her work and her paintings are often displayed for sale at various public venues around Surrey.
The ability to capture beauty and the interplay of light and shadow in her paintings, are a key aspects of Lauren's artistic style. She paints using acrylics to interpret scenes which ignite the viewer's imagination.