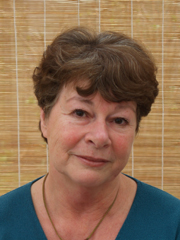 Fran started painting again, having previously attained an 'A' level in Art from school, when her younger daughter went to playschool.
She joined an Adult Education class tutored by another member of 'Surrey 12', Liz Seward. Liz not only taught her drawing and painting techniques but also gave her so much inspiration and encouragement.
Fran is a member of Fleet, Guildford and Woking Art Societies.She has also exhibited at Bramley, Runnymede National Trust l2l5 Gallery and The Society of Women Artists at The Mall Galleries in London. She has won several awards at Woking for her work.
Most of Fran's paintings include people. She finds a lot of gentle humour in observing the way in which people behave, dress and the situations they find themselves in. She is a great admirer of Roland Batchelor and Alexander Millar. In particular, she loves the way Roland Batchelor achieves such humour in what to the layman seems such efffortless drawing and painting.