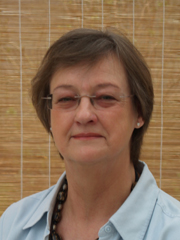 elisabeth@westsurreyartists.co.uk
Elisabeth was born and educated in Germany. After College she took a 6-months 'gap' in Mexico. She then came over to England to study the language, married an Englishman and raised her family. She has been resident here ever since.
Elisabeth came to painting in a 'round about' way: A few years ago Elisabeth took part in a sponsored Trek in the High Atlas Mountains of Morocco. Through the generosity of family, friends and many organisations she was able to raise £6,500 in sponsorship in aid of the Teenage Cancer Trust. Having successfully completed the 90-mile Trek, Elisabeth was looking for another challenge – and learning to paint proved to be just that challenge – so much easier on the joints!
So Elisabeth began painting in 1999, attending weekly classes led by a professional artist, for nearly 5 years. She regularly takes part in painting workshops.
She is now an exhibiting member of 7 Art Societies, amongst them Guildford and Farnham Art Societies as well as Lloyd's of London Art Group. She has exhibited within an Exhibition at the Runnymede National Trust 1215 Gallery and has won awards at Woking Art Society Exhibitions.
Furthermore her work has been exhibited within the prestigious Society of Women Artists (SWA) Exhibitions at the Mall Galleries in London on various occasions.
Elisabeth works in watercolour, acrylic and mixed media with special emphasis on light in her paintings and vibrant colours. Her favourite subjects are flowing landscapes in all seasons, strong seascapes, powerful and also funny animals, beautiful flowers, houses and people – using various textures to create vivid movement in her paintings. Some of her work is reproduced in the form of greeting cards.
She hopes that her enthusiasm and love for painting shines through in her work.